Rosalía y su 'Motomami' celebra los Grammy 2023 en la cama
Rosalía se lleva el premio a mejor álbum latino alternativo. ¡Tra tra!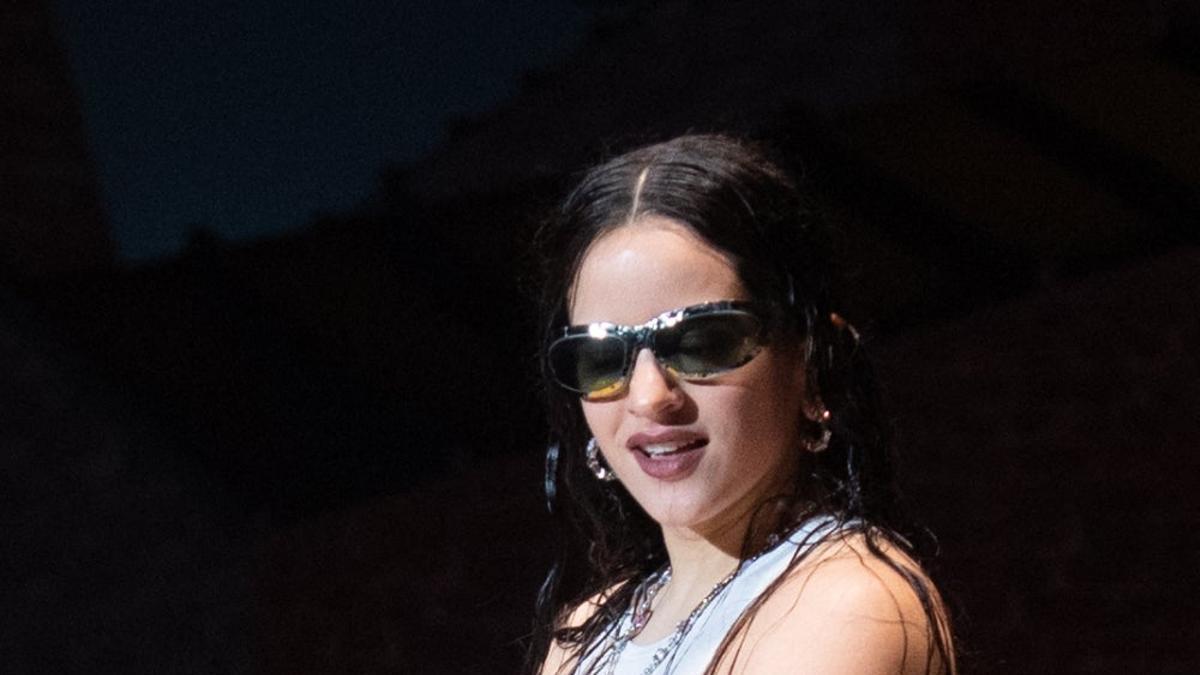 Rosalía (29) lo ha vuelto a hacer: granar un premio Grammy. La cantante estaba nominada en la categoría de Mejor Álbum Alternativo y sí, ha arrasado. Así lo ha comunicado la Academia de la Grabación de Estados Unidos en la 65 edición de unos Premios Grammy muy esperados por el público.
La cantante no asistió a la fiesta pre Grammy y suponemos que tampoco la veremos en la alfombra roja o en el Crypto.com Arena de Los Ángeles ya que ella ya ha celebrado su gramófono desde la cama. Sí, Rosalía publicaba una foto segundos después de que anunciaran su premio desde la cama y flipando un poco con la situación ya que escribía: "MOTOMAMI GRAMMY WINNERR QUEEEEEEEEEEEEEEEE??".
Y así de 'fácil' Rosalía se llevaba otro gramófonao pues no es la primera vez que es premiada en los Grammy. En 2020 se le adjudicó el premio en la misma categoría que este año. La Rosi repite como las natillas. Pero espera que hay más porque todavía opta al premio que reconoce al mejor video musical de formato largo por Motomami (Tik Tok Live Performance) en esta edición.
Esas son las únicas nominaciones en las que encontramos a nuestra Rosalía... Unos puestos muy diferentes a los Grammy Latinos donde siempre arrasa y en 2022 se llevó cuatro gramófonos.
Más nominados a los Grammy 2023
Un verano sin ti, Bad Bunny
Good Morning Gorgeous (Deluxe), Mary J. Blige
In These Silent Days, Brandi Carlile
Music of the Spheres, Coldplay
Mr. Morale & the Big Steppers, Kendrick Lamar
Harry's House, Harry Styles
Good Morning Gorgeous, Mary J. Blige
You and Me on the Rock, Brandi Carlile ft. Lucius
The Heart Part 5, Kendrick Lamar
All Too Well (10 Minute Version) (The Short Film), Taylor Swift
God Did, DJ Khaled ft. Rick Ross, Lil Wayne, Jay-Z, John Legend y Fridayy
The Heart Part 5, Kendrick Lamar
Just Like That, Bonnie Raitt
The Heart Part 5, Kendrick Lamar
All Too Well: The Short Film, Taylor Swift
Mejor interpretación solista pop
Mejor interpretación dúo/grupo pop
Bam Bam, Camila Cabello ft. Ed Sheeran
My Universe, Coldplay y BTS
I Like You (A Happier Song), Post Malone y Doja Cat
Unholy, Sam Smith ft. Kim Petra
Mejor álbum pop vocal tradicional
When Christmas Comes Around…, Kelly Clarkson
I Dream of Christmas (Extended), Norah Jones
Music of the Spheres, Coldplay
Harrys House, Harry Styles
Mejor grabación dance/electronica
Don't Forget My Love, Diplo ft. Miguel
Im Good (Blue), David Guetta y Bebe Rexha
Intimidated, Kaytranada ft. H.E.R.
On My Knees, Rüfüs du Sol
Mejor álbum de música dance o electrónica
Mejor interpretación de música alternativa
Thered Better Be a Mirrorball, Arctic Monkeys
King, Florence and the Machine
Spitting Off the Edge of the World, Yeah Yeah Yeahs ft. Perfume Genius
Mejor álbum de música alternativa
Dragon New Warm Mountain I Believe in You, Big Thief
Cool It Down, Yeah Yeah Yeahs
Here With Me, Mary J. Blige featuring Anderson Paak
Hurt Me So Good, Jazmine Sullivan
Mejor interpretación de R&B tradicional
Keeps on Fallin, Babyface ft. Ella Mai
Plastic Off the Sofa, Beyoncé
Round Midnight, Adam Blackstone ft. Jazmine Sullivan
Good Morning Gorgeous, Mary J. Blige
Good Morning Gorgeous, Mary J. Blige
Hurt Me So Good, Jazmine Sullivan
Please Dont Walk Away, PJ Morton
Mejor álbum R&B progresivo
Operation Funk, Cory Henry
Gemini Rights, Steve Lacy
Red Balloon, Tank and the Bangas
Good Morning Gorgeous (Deluxe), Mary J. Blige
Breezy (Deluxe), Chris Brown
Black Radio III, Robert Glasper
God Did, DJ Khaled ft. Rick Ross Lil Wayne Jay-Z John Legend y Fridayy
Pushin P, Gunna y Future ft. Young Thug
F.N.F. (Lets Go), Hitkidd y Glorilla
The Heart Part 5, Kendrick Lamar
Mejor interpretación de rap melódico
Beautiful, DJ Khaled ft. Future y SZA
Wait for U, Future ft. Drake y Tems
Die Hard, Kendrick Lamar ft. Blxst y Amanda Reifer
Churchill Downs, Jack Harlow ft. Drake
God Did, DJ Khaled ft. Rick Ross Lil Wayne Jay-Z John Legend y Fridayy
The Heart Part 5, Kendrick Lamar
Pushin P, Gunna and Future ft. Young Thug
Wait for U, Future ft. Drake y Tems
I Never Liked You, Future
Come Home the Kids Miss You, Jack Harlow
Mr. Morale & the Big Steppers, Kendrick Lamar
Aguilera, Christina Aguilera
Pasieros, Rubén Blades ft. Boca Livre
De adentro pa afuera, Camilo
Mejor álbum de música urbana
Trap Cake, Vol. 2, Rauw Alejandro
Un verano sin ti, Bad Bunny
The Love & Sex Tape, Maluma